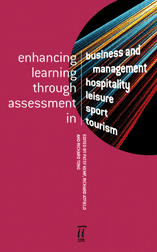 A valuable resource for academics/teachers committed to improving their learning and teaching, and ultimately, the learning outcomes for students. …a valuable resource for all those involved in teaching in higher education.
Associate Professor Kim Watty
Principal Research Fellow
Graduate School of Business and Economics
University of Melbourne
These case studies are about successful approaches to assessment in enhancing learning, developing the theme of employability of the first title in the series and moving to consider lifelong learning and the development of independent, autonomous and self-empowered learners.
The latest title in the Enhancing… series was commissioned by the Higher Education Academy Hospitality, Leisure, Sport and Tourism (HLST) and Business, Management, Accountancy and Finance (BMAF) Networks. Hosted by Oxford Brookes University, HLST and BMAF are two of the 24 national Subject Centres which support and facilitate the sharing of good practice in enhancing the student learning experience in UK higher education.
Contents
Editors' Foreword
Introduction: Assessing emergent professional expertise
Mantz Yorke
1 Cultivating a community of assessment practice
to enhance students' academic performance
Berry O'Donovan Business School, Oxford Brookes University
2 'It made me think on my feet'
Encouraging non-written and part-written assessment
Jenny Anderson Southampton Solent University
3 Assessing 'wicked competences' at a distance
Gabriel Reedy and Jill Mordaunt The Open University Business School
4 Closing the loop
Engaging tutors in formative assessment for impact on learner experience
Stylianos Hatzipanagos King's Learning Institute, King's College London
5 Co-ordinating dissertations in a shared modular matrix
Reflections on assessment criteria, delivery and marking
Owen Thomas and Richard Tong Cardiff School of Sport, University of Wales Institute, Cardiff
6 Feed-forward
Supporting transferable skills with formative feedback
Diane Rushton, Louise Sparshatt, and Rona O'Brien Sheffield Hallam University
7 Using e-portfolio as a reflective assessment tool
Pauline A. Gordon Queen Margaret University, Edinburgh
8 Using group-work assessment to encourage peer learning on a postgraduate programme
Sara Garratt Canterbury Christ Church University
9 Assessing work-related learning using e-portfolios
Ian Beattie Liverpool John Moores University
10 'So when is the final exam, then?'
New forms of assessment and student engagement at Level 4
Graham Baker University of the West of England
11 Assessment to enhance student learning in sport-related research
Rich Neil, Kylie Wilson and Richard Tong Cardiff School of Sport, University of Wales Institute, Cardiff
12 Exploring the 'myths' of enhanced learning
through group work assessment
Helen Pokorny University of Westminster and and David Griffiths London Metropolitan University
13 Using oral debriefing to assess student learning
in a business simulation game
Jonathan Lean and Jonathan Moizer University of Plymouth Business School
14 Assessment for Learning
Active learning in live projects
Ursula S. Hummel Heidelberg International Business Academy
15 Programme-led assessment strategies
in sports development degrees
Linda Allin and Lesley Fishwick Northumbria University
Glossary
Index
The editors
Patsy Kemp has experience of working in education and training across the globe. As academic developments co-ordinator for the Higher Education Academy Network for Hospitality, Leisure, Sport & Tourism, she works to support practitioners in their roles in higher education.
Richard Atfield is assistant director for the Business Management Accountancy and Finance Subject Centre. He is responsible for facilitating workshops, special interest groups and other learning opportunities, including the 2010 BMAF Conference on 'Assessment and Assessment Standards'. His career spans management and workforce development in the NHS and lecturing in the UK and Hong Kong for Oxford Brookes University.
Richard Tong is the director of learning & teaching and deputy dean in the Cardiff School of Sport at UWIC. He is also the sport liaison officer for the HE Academy Subject Centre for Hospitality, Leisure, Sport and Tourism. He is the chair of the Education & Professional Development Division for the British Association of Sport & Exercise Science and the moderator champion for learning & teaching for the University of Wales. His research interests and publications are in sports physiology, pedagogy and assessment.
£25.00 (paperback) 2010 234x156mm 208pp ISBN 978-1-903152-25-6