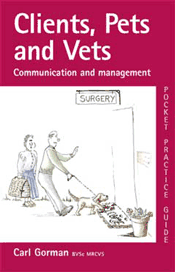 Clients, Pets and Vets
Communication and Management
Carl Gorman
BVSc MRCVS
excellent… It is required reading for all new grads in this practice (and some not so new grads as well, whose comms skills need honing!) …[a] very useful book.
Nick Blayney BVSc MRCVS Sometime President British Veterinary Association
Carl's book provides advice and food for thought in the pitfall-strewn field of client management. The core message of the book is the importance of communication. Communication with colleagues, lay staff and, most vitally, with clients. Keeping clients informed is the best way of keeping clients happy.
By demonstrating some areas where communications can break down and the reasons why, Clients, Pets and Vets enables you to look after clients and so fully enjoy your time in practice and maximise your potential. Read contents and extracts from Chapter Two and Chapter 6
£19.95 (paper) 2000 216x138mm 176pp 978–1-903152-04-1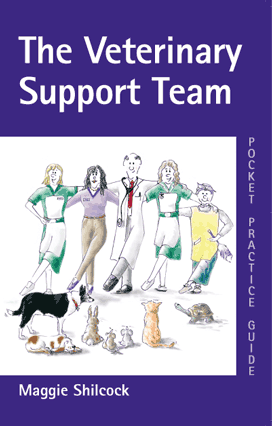 The Veterinary Support Team
Maggie Shilcock
BSc CMS
What a pity this book was not written before I became a practice manager! …an easy-to-read style, a must for practice libraries and for those considering joining a veterinary practice.
Penny Bredemear VN Times
A comprehensive and practical discussion of the role of veterinary support staff and their importance to the practice—invaluable for support staff, practice managers and vets.
Key topics include how support staff create and influence the practice image and how to create co-operative support staff teams. The discussion is balanced by comments from working support staff about their jobs. Read more.
£Sorry, out of stock (paper) 2001 216x138mm 144pp 978–1-903152-06-5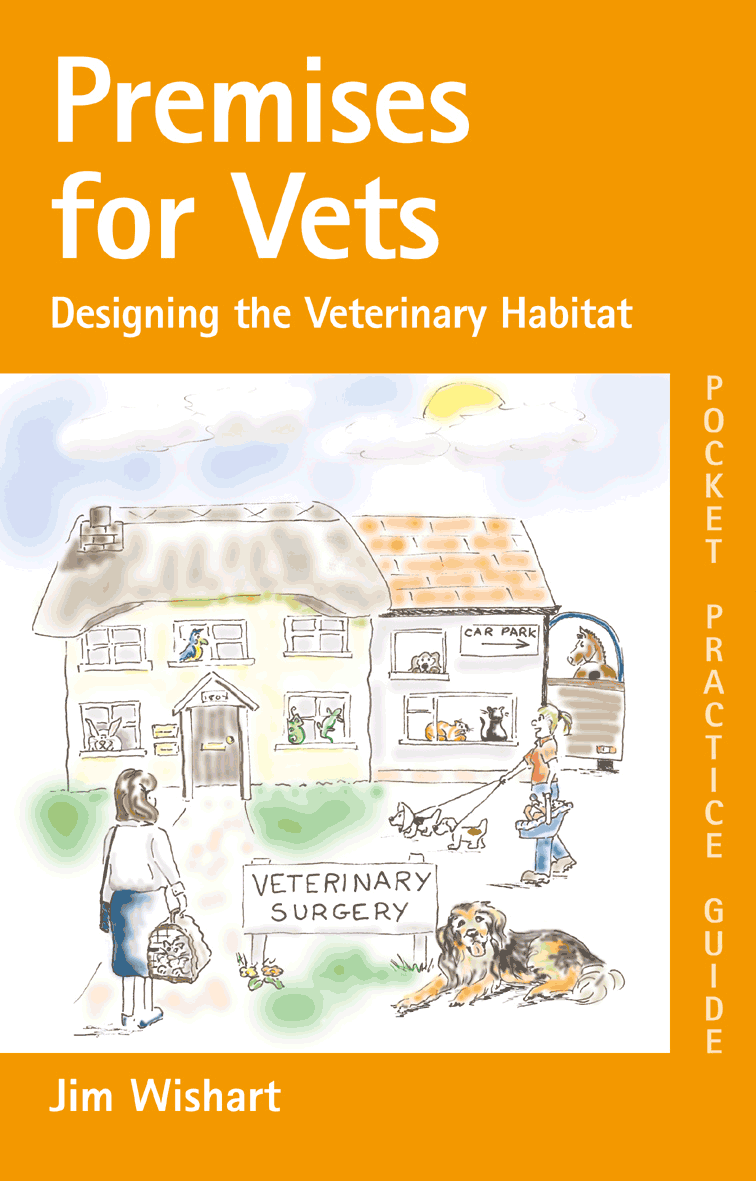 Premises for Vets
Designing the Veterinary Habitat
Jim Wishart
DIPM MCIM AMCIPD FINSTSMM
An invaluable book for those thinking of embarking on modifying their practice. It is sensible and practical and its small cost will be repaid many times over during the project
Christopher J Laurence MRCVS
The Veterinary Record
Are you making the best use of your premises and the space available? If you want to expand, what are your options? Jim Wishart, an established planner of veterinary premises, gives you the tools to decide.
Veterinary skill is the core product of veterinary practice; the premises are the packaging. Good packaging protects what it sells and sells what it protects – this sums up practice design. Read more.
£19.95 (paper) 2003 216x138mm 144pp 978–1-903152-09-6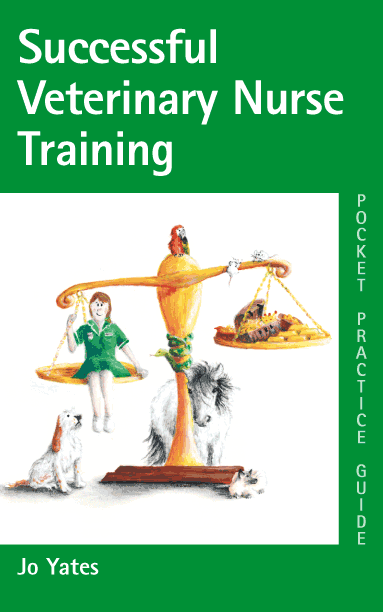 Successful Veterinary Nurse Training
Jo Yates
Dip AVN (Surg) VN
a 'must read' for any practice contemplating training nurses, including those considering offering placement to a higher education or degree candidate
Joy Howell Dip AVN (Surgical) VN
Jo Yates shows how practices can make VN training a positive learning experience that focuses their attention on best practice and delivery of reliable quality care.
In her comprehensive and practical guide, she looks at educational options for students and practices, finance and funding, time management for tutoring and how to manage assessments and related paperwork.
Profiles of typical trainees and assessors set the experience of VN training in its context. This book is a stimulating, informative and useful reference guide. Read more
£18.95 (paper) 2004 216x138 mm 112pp 978–1-903152-14-0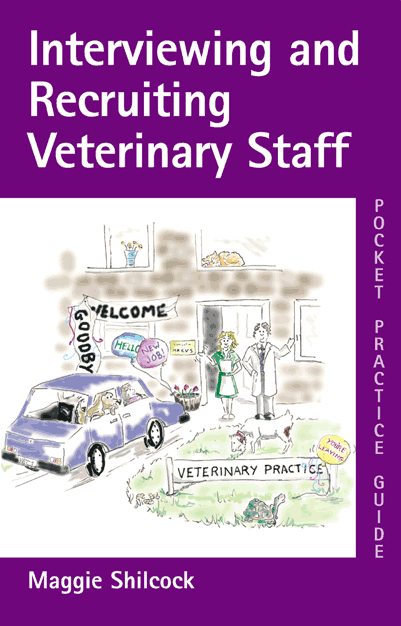 Interviewing and Recruiting Veterinary Staff
Maggie Shilcock
BSc CMS
Maggie Shilcock writes with the authority that comes with a great deal of experience… the book is clearly the work of somebody who understands recruitment and also how veterinary practice ticks.
Nick Blayney The Veterinary Record
Good recruitment is a key to successful staff selection for veterinary businesses of every type and size. Maggie's approach is practical, starting with a job description and thinking hard about the right person for the job.
A detailed look at the interview process is the centrepiece of the book – as interesting to interviewers as to their candidates. But equally important are the handling of the decision, of acceptance and rejection and the first day at work. Read more.
£18.95 (paper) 2003 216x138mm 112pp 978–1-903152-10-2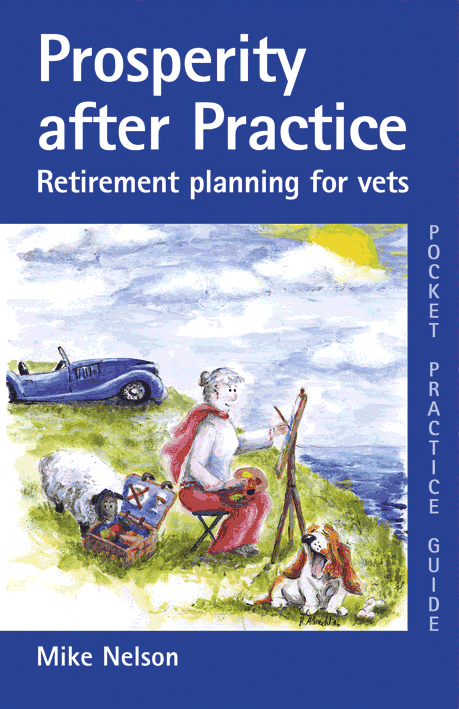 Prosperity after Practice
Retirement planning for vets
Mike Nelson
BSc MRCVS
This readable little book will educate and amuse mid-career vets, practice principals and partners…
John Bower The Veterinary Record
It's never too early to begin financial planning for retirement, nor, in Mike Nelson's encouraging view, is it usually too late. Mike guides you through the language of retirement planning and pensions, showing how tax and investment fit together, with useful tips on ensuring that you receive good advice from the professionals.
Even the financially well-prepared will enjoy reading his experiences, and he offers dry, down-to-earth assessments of the choices that have to be made. Read more.
£19.95 (paper) 2004 216x138mm 176pp 978–1-903152-12-7