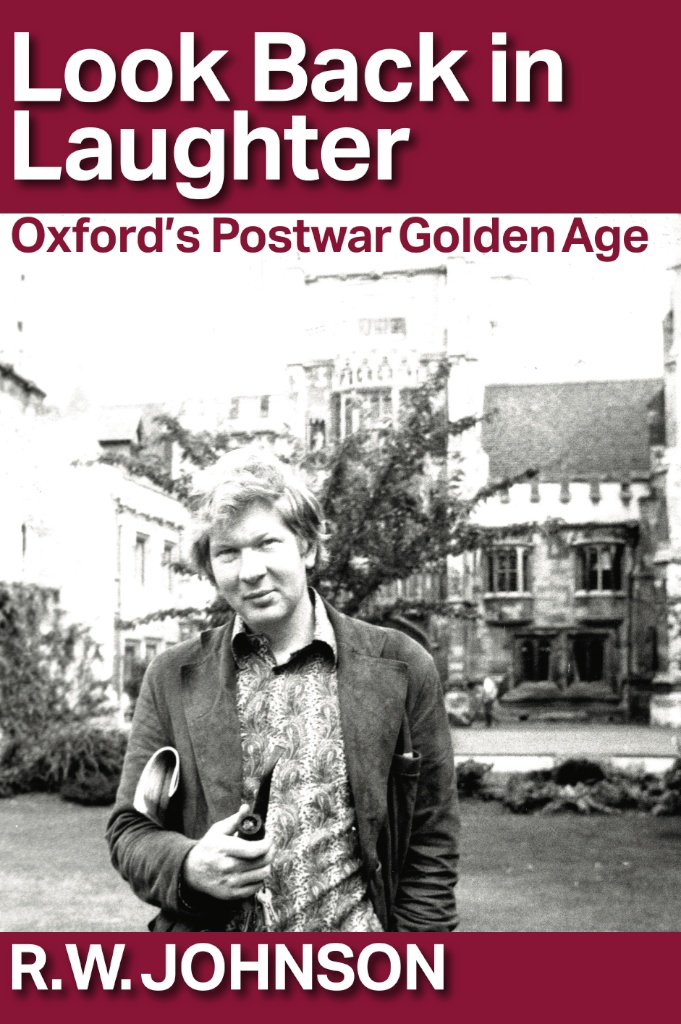 Early reviewers acclaim Look Back in Laughter
'his marvellous memoir about his three decades in Oxford … dark humour, but also … life-affirming vitality.
Johnson's scintillating account of his years in Oxford … its very verve and readability make it somehow suspect. His recall of moments and conversations is seemingly perfect, his presentation of illustrative detail simply stunning.
… for all who have been enchanted by Oxford and by what R. W. Johnson called its 'secret garden' this is an indispensable memoir.'
Modris Eksteins TIMES LITERARY SUPPLEMENT
'a delightfully rum collection of anecdotes and arguments, some of them marvellously arcane in the most ludicrous navel-gazing Oxonian tradition, others touching on grander matters of state, foreign policy and high principle.
Oxford suited Mr Johnson; it was 'the most tolerant atmosphere I had ever experienced in my life. He plainly loved its quirky humour. Sometimes he felt he was in 'pure paradise'…'
THE ECONOMIST
'a rattling good read … [an] extraordinary memoir…
The way Bill Johnson graphically tells it, a major British academic institution was being governed with all the acumen and ethics of the average whelk stall.'
Robert Fox STANDPOINT
'I found the book very difficult to put down …the portraits of the dons are keen and knowing, the academic intrigues both fascinate and repel the author, and never has Oxford pomposity been so cheerfully exposed.'
Dennis Hutchinson AMERICAN OXONIAN
Look Back in Laughter
Oxford's Postwar Golden Age
IN 2009, WHILE SWIMMING DOWN the KwaZulu-Natal South Coast Bill Johnson lost his left leg and very nearly his life. While recovering from this accident he began to write this insider's memoir of the Oxford he knew. The result is a wildly entertaining mixture of acute (and often hilarious) personal observation mixed with history, some major revelations (the real story of the Thatcher degree debacle and of tear gas bombs thrown into the House of Commons), and the whole laced with innumerable anecdotes, both humorous and telling. The result is an unparalleled picture of postwar Oxford. This book is bound to be a classic of its kind.
R W JOHNSON (seen right in 1975 and below 40 years later) arrived at Magdalen College, Oxford as a South African Rhodes scholar in 1964 and left Magdalen in 1995 after 26 years as a Fellow, teaching Politics in the PPE (Politics, Philosophy and Economics) School.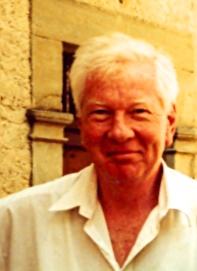 Johnson has written widely on British, French and African politics and his books included six with South African themes, most notably South Africa's Brave New World – The Beloved Country Since the End of Apartheid; a major study of the French Left; an investigation of the shooting down of the Korean airliner KAL 007, and several books of essays. In addition he has been a prolific contributor to the London Review of Books and a great variety of other journals and papers including the London Times and Sunday Times, for both of which he has been a foreign correspondent. From 1995 to 2001 he was director of the Helen Suzman Foundation in Johannesburg.
Contents
to read an extract, choose one of the three links below
Preface: Oxford Days
1 Entering the Secret Garden
2 Escape and Arrival
3 Happy Days
4 Exploring The Secret Garden
5 Becoming a Don
6 The Mysterious Business of Learning
7 … and Teaching
8 The Thatcher Honorary Degree Debacle
9 The Old Boy Network
10 The Oxford Spies
11 The Autumn of the Patriarch
12 Cleaning Up
13 Rhodes and 'the World's fight'
14 Leaving
Index
Important points
Controversialist and reviewer Bill Johnson celebrates the glory years of C20th Oxford with a political analyst's eye on the modernisation of an almost feudal Oxford college, where he had a leading role.
Not since the best of C P Snow's novels or Ved Mehta's Fly in a Fly Bottle have the intricacies of Oxford life and the workings of an academic community been so lovingly anatomised.
A jolly sunny book, with better jokes and stories than John Carey's 2014 surprise bestseller The Unexpected Professor and without his guilt or gloom.
£14.50 (paper) May 2015
Paperback 272 pp format 234x136 mm 14 black & white and colour plates
ISBN 978-1-903152-35-5