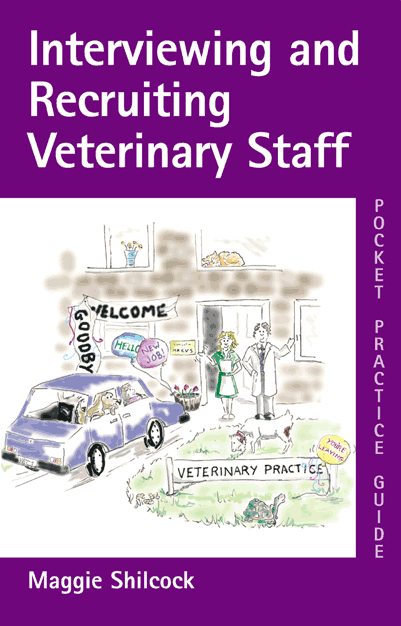 Whether you want to read it from cover to cover or dip into it as your questions arise, this book is guaranteed to become an invaluable resource in every veterinary clinic.
The chapters are concise and informative without being difficult to digest. The information is practical and well explained and… you can easily find what you need with a quick flick through the pages.
Susan Barry Irish Veterinary Journal
Maggie Shilcock's guide to good recruitment is a key to successful staff selection for veterinary businesses of every type and size.
Her approach is practical, starting with a job description and thinking hard about the right person for the job. A detailed look at the interview process is the centrepiece of the book, which should be of as much interest to interviewers as to their candidates. But equally important are the handling of the decision, of acceptance and rejection and the new employee's first day at work.
Maggie shows the importance of probationary appraisals and support for the new employee and discusses what can go wrong in those first few months, and how to avoid it. If the best laid plans do go wrong, she shows the personnel procedures to adopt.
As in The Veterinary Support Team, Maggie uses real life experiences of veterinary staff. Interviews with staff who have recently been recruited by interview as well as with interviewers are included at the end of each chapter.
The author
Maggie Shilcock is a past-president of the Veterinary Practice Management Association and has edited its journal Veterinary Practice Management Today. A zoology graduate with postgraduate qualifications in information science and management, she has worked in veterinary practices for the last twelve years, and provides courses on staff and management training.
She has written the Pocket Practice Guide for The Veterinary Support Team (Threshold Press 2001) and published Veterinary Practice Management – A practical guide with Georgina Stutchfield.
Audience
Veterinary practice managers and senior support staff
Practice principals and senior partners, HR managers in veterinary enterprises
Aspiring vets facing their first interviews
Experienced vets with an interest in CPD and management issues
£14.95 (paperback) 216 x 138 mm 128 pp ISBN 978-1-903152-10-0

Contents
1 The Recruitment Process
Why is recruitment so important? - The real cost of recruitment – The stages of recruitment – Who is responsible for recruitment? – The practice recruitment policy
2 The Job Description
Why have one? – Who writes it? – What does it contain? – What the interviewees say
3 The Person for the Job
Candidate profile – What the interviewers say
4 Advertising
Designing the advertisement – Where to advertise – CVs and application forms – What the interviewees say
5 Selecting for Interview
Selection criteria – Assessing CVs and application forms – Selecting candidates – What the interviewers say
6 Preparing for the Interview
What is the objective of the interview? – Who is going to interview? – What questions will be asked? – Will there be psychometric testing of candidates? – How will the candidates be assessed? – The structure of the interview – What records will be kept? – What the interviewers say
7 Conducting the Interview
Greeting the candidate and building rapport – First impressions – The importance of body language – Asking questions – Listening – Controlling the interview – Holidays and periods of notice – References – Closing the interview – Assessing candidates – Discrimination – Why interviews fail – What the interviewers say
8 Decision Time
The final assessment – Completed assessment forms and notes – Personal opinions and feelings – Choosing the right candidate – The job offer – The unsuccessful candidates – What the interviewers say
9 Being an Interviewee
Be prepared – The interview process – The day of the interview – At the interview – What the interviewees say
10 The New Employee's First Day
Pre-employment information and induction – Contract of employment – First day structure – First day induction – General induction training – The induction needs of particular groups of employees – Reviewing and revising induction –What the new employees say
11 Probationary Periods and Appraisals
Probationary periods – Probationary appraisals – What does the appraisal look at? – Carrying out the appraisal – What the interviewees say– What the interviewers say
12 What can go Wrong
Discipline – Misconduct – Gross misconduct – Technical abilities – Fitting into the practice – Discrimination – Parting company – Starting again
Index