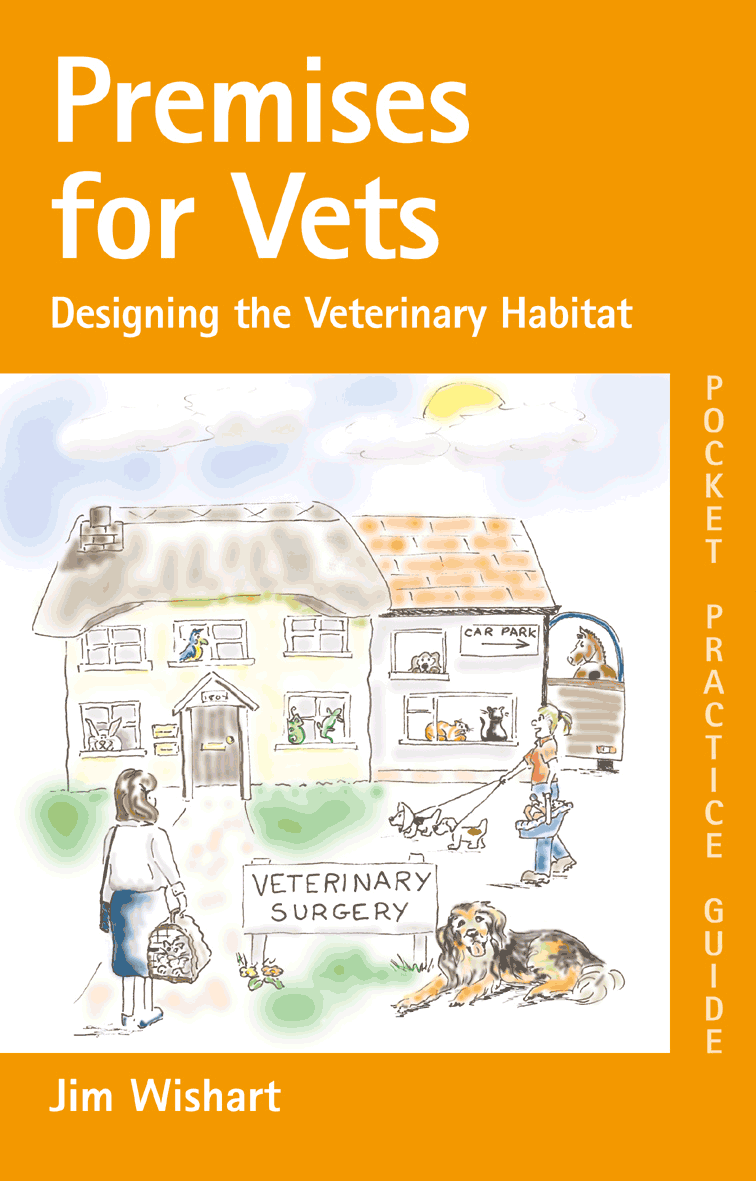 Good, short chapters highlighting the most important points in practical terms …enabling practices to make more enlightened decisions.
Paul Manning MA VetMB MRCVS
Veterinary Review
The premises are often your practice's greatest asset and Jim Wishart's book aims to help you make them as attractive to visit and work in as possible, as well as fit for the job they have to do.
As he shows, to work really well the layout must make it easy to undertake all the tasks which are carried out inside. He explains how careful planning creates good premises which can be developed within a sustainable budget and for your market requirements – by extension, branch development, purchase or new build.
Attractive, well-located practice premises will be a boon in attracting clients, particularly if access and parking is easy. That, however, only gets the client to the door. Once inside that external perception must become reality, with the space, welcome and service available.
Good design can help by making the premises a pleasure to visit and as a place of work. A good working environment is likely to help keep employees fresh, happy and ready to serve. All that is needed then is good management and veterinary skill, which are well beyond the scope of the designer.
The author
Having qualified in agriculture and engineering, Jim Wishart worked in the supply industry before moving into veterinary pharmaceuticals.
In 1986, when he established James M Wishart & Associates, Jim became involved in practice design, specialising in layout and project management. Since that time he has worked on a wide range of greenfield projects, conversions and extensions.
Audience
Practice principals, managers and senior support staff
Professionals involved in designing and developing veterinary premises
£15.50 (paperback) 216 x 138 mm 144 pp
ISBN 978-1-903152-09-7
Contents
Section One: What Do We Want to Achieve?
1 Thinking and Planning
Reasons for developing – Thinking about your market – A developing business – Extension v. relocation – The third way – Open a branch – Research and pre-planning – Cashflows and budgets
2 Location and Site Finding
Deciding on a potential location – Accessibility – The search process – Local authorities – Making an offer – Checking out the site
3 Types of Buildings and Finishes
Functions, facilities and space – Planners and their requirements – Industrial buildings – Building shapes – Overnight accommodation – Surface finishes – Ceilings – Walls – Flooring
4 The Design and Building Stages
Building costs – The design brief – Planning consent – Building Regulations approval – Professional advisers – Tender and developer – Prime costs and provisional sums – Contingency sum – Building contract – Stage payments and VAT – Penalty clauses – Site meetings
Section Two Small Animal Premises
5 Front of House
Client access and entrances – Cars and car parks – Premises entrance – Reception and waiting areas – Reception desk – Sales areas – Waiting areas – Client information – Sound deadening – The consulting room – Client area – Veterinary area – Patient area
6 In-House Services
Dispensaries and in-practice supplies – Consulting room supplies – In-patient housing - Separate wards – Ward layout – Dog ward layouts – Walk-in cages – Cat wards – Recovery cages – Isolation – Intensive care – Dog runs – Cadavers, clinical and pharmaceutical waste
7 In-Patient Treatment
Preparation areas – Piped gases – Instrument cleaning, sterilisation and supply – Cleaning and laundry – Diagnostic rooms – Dark room – Other diagnostic areas – Laboratory – Operating theatres – Dental Areas
Section Three Farm Animal and Equine Facilities
8 Special Requirements of Farm and Equine Work
Clients, vehicles and boots – Large animal support facilities – Large animal utility room – Farm animal accommodation – Loose boxes – Loading and unloading large animals – The knock-down box – Equine surgical unit – Recovery and housing
Section Four Turning the Key
9 Promotion and Opening
A marketing opportunity – A strategy and a budget – Open day – Official opening
Index