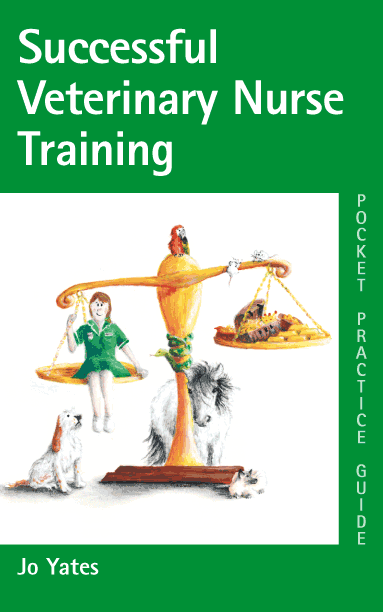 a 'must read' for any practice contemplating training nurses, including those considering offering placement to a higher education or degree candidate
Joy Howell Dip AVN (Surgical) VN
Jo Yates shows how practices can make VN training a positive learning experience that focuses their attention on best practice and delivery of reliable quality care.
In her comprehensive and practical guide, she looks at educational options for students and practices, finance and funding, time management for tutoring and how to manage assessments and related paperwork.
Profiles of typical trainees and assessors set the experience of VN training in its context. This book is a stimulating, informative and useful reference guide.
£15.95 (paper) 2004 216x138 mm 112pp 1-903152-14-3
Contents
1 Choosing a Veterinary Nursing Training Scheme
The story so far – The Veterinary Nurse Certificate: Work-based training by NVQ/VRQ – Veterinary Nurse Certificate within a higher education qualification – The best route? Work-based training – Entry requirements – Funding and finance – Student profile 1 – Appendix: Medical Nursing and Fluid Therapy, Guidance notes – Completed sample log sheet: Unit 7b
2 Teaching and Learning in the Workplace
Concepts of education and training – Learning – Types of learning – Experiential learning – How we learn – Clinical teaching – And finally to assessment – Occupational standards – Assessor profile 1
3 The Responsibilities of a Training Practice
Facilities for clinical practice – Health and safety – Employment law – Clinical caseload – Patient-care protocols – Continuing professional development – Equipment and facilities to support training specifically – Human resources – Sustainability – Student profile 2
4 What is a Veterinary Nurse?
Defining the job – What are veterinary nurses trained to do? – The legal aspect – Regulation and professional status – Why practices need to train nurses – Assessor profile 2
5 The Team
The players – Star players – The assessor – The student – The HE student – Student profiles 3 & 4
6 How the Qualification Works
What is assessing all about? – The function and role of the portfolio – The modules – Collecting appropriate and valid work-based evidence – Systems and control – Communication – Meetings – Agendas – Record-keeping and paperwork – Communication tips – External communication – Portfolio pointers – Assessor profile 3
7 The Role of the Veterinary Nursing Approved Centre
Internal verification – The visits – The paperwork – Portfolio reviews – Standardisation meetings – Who are the VNACS? – External verification – Student profile 5
8 Common Problems and Concerns
Workplace problems and some ideas for solutions – Time – Lack of time – Poor use of time – Time for teaching – Facilitating rather than teaching – Motivation – Organisational stress – On a more positive note – Student profile 6
9 The Future
Shortage of nurses – Lessons to be learnt? – Control of the future – Imminent change
Useful Information
Further Reading
Useful Addresses
Appendix 1 Veterinary Nursing NVQ Awards: Units and Elements at Levels 2 & 3
Appendix 2 Veterinary Nursing Approved Centres
Index
Glossary of Terms and Abbreviations
Assessment
Measurement of how effectively a student has learned, usually measured against stated learning outcomes.
Awarding Body
A professional body that oversees and sets the standards for a particular qualification. They, in turn, are answerable to QCA. For example, the RCVS is the awarding body for veterinary nursing.
BVNA British Veterinary Nursing Association.
CPD Continuing Professional Development.
GCSE General Certificate of Secondary Education.
HE Higher Education.
IV Internal Verifier.
Lantra The Sector Skills Council for Environmental and Land-based Sector Training.
MCQ Multiple-Choice Question. This is the form taken by the VN qualification examinations.
NVQ National Vocational Qualification. Work-based evidence collected to meet national occupational standards.
Occupational Standards
Specific written units of criteria, used to measure students' competence.
QCA Qualifications and Curriculum Authority.
RCVS Royal College of Veterinary Surgeons.
SVQ Scottish Vocational Qualifications.
TP Training Practice.
VNAC Veterinary Nursing Approved Centre.
VRQ Vocationally Related Qualification.