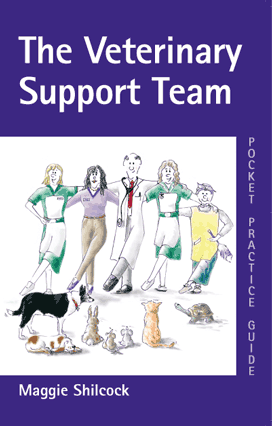 What a pity this book was not written before I became a practice manager! …an easy-to-read style, a must for practice libraries and for those considering joining a veterinary practice.
Penny Bredemear VN Times
This book is a starting point for providing the veterinary support team with the training tools that they need. …for new entrants into and the progressing members of the veterinary support team.
Christine Ann Merle DVM MB Editorial@penguin.doody.com
Veterinary support staff come in many guises – nurses, receptionists, administrators and office staff. The unsung heroes and heroines of the veterinary world, they carry out a variety of tasks, ranging from client care, reception work, office administration and IT, to nursing, dispensing and book-keeping. They move from role to role – diplomat, politician, debt collector, social worker and counsellor – and the skill, experience and knowledge they have is at the service of clients and the veterinary team in the surgery.
The part support staff play in client and pet care is of vital importance. Maggie Shilcock's book covers the variety of roles they carry out, and the background information they need, ranging through sales and marketing, basic finance, veterinary ethics and the law, as well as clinical skills needed by non-nursing staff. Individuals working as a team are the key to success, and Maggie explains how individuals form a team, while short remarks by working support staff provide a running commentary at the end of each chapter.
This is the first book dedicated to the training needs of support staff. It is a useful, comprehensive and practical tool for training new recruits. It is ideal too for managers and vets delivering staff training and development programmes, who want their practice support team to achieve its full potential. The book also provides a valuable insight for those considering a career in veterinary practice at a time when skills and commitment of support staff are becoming ever more important.
The author
Maggie Shilcock is a past-president of the Veterinary Practice Management Association and has edited its journal Veterinary Practice Management Today. A zoology graduate with postgraduate qualifications in information science and management, she has worked in veterinary practices for the last twelve years, and provides courses on staff and management training.
She has written the Pocket Practice Guide for Interviewing and Recruiting Veterinary Staff (Threshold Press 2003) and published Veterinary Practice Management – A practical guide with Georgina Stutchfield.
Audience
Veterinary practice managers and senior support staff
Practice principals and senior partners, HR managers in veterinary enterprises
Experienced vets with an interest in CPD and management issues
£15.95 (paperback) 216 x 138 mm 128 pp ISBN 978-1-903152-06-5

Contents
1 Support staff – who are they and what do they do?
Who are they? – What experience do you need? – What age should you be? – What about formal education? – Equality of the sexes – How should you look? – Being a team member – Jack and Jill of all trades, master and mistress of all – What do the clients think support staff do? – What do support staff really do? – Summary – What support staff say
2 Support staff and the practice image
The importance of client care – What is a quality service? – What does the client want? – What is the role of support staff in client care? – First impressions count – Last impressions – What support staff say
3 Support staff and client care skills
Telephone skills – How the receptionist looks, sounds and behaves – Sensitive situations – Booking appointments and operations – Listening – Providing information – Sales and marketing – Being a team member – What prevents good client care – What support staff say
4 Assertiveness and dealing with difficult clients
Assertiveness techniques – Dealing with difficult clients – Staff attitudes to difficult clients – What support staff say
5 Support staff and money
Taking the money – Spending the money – Stock control – Paying the money – Managing the money – What support staff say
6 Support staff and the office
The mail – Filing – Practice forms – Stationery – Secretarial services – Office equipment – Computers – The hardware and mechanics – Health and safety – What support staff say
7 How support staff contribute to sales and marketing
What is selling – The role of support staff in selling – What is marketing? – The role of support staff in marketing – What support staff say
8 Support staff and the law
Statutory requirements – Ethical requirements – Ministry of Fisheries and Food (MAFF) – Employment legislation – Health and Safety at Work Act – Waste management and duty of care – Pharmacy regulations – Welfare organisations – The selling of goods – What support staff say
9 Support staff and the clinical role
Pet care advice – Animal biology – Veterinary terminology – Veterinary assistance – Veterinary hygiene – What support staff say
10 Teamwork – Understanding other roles
Understanding the practice aims and objectives – Understanding your own role – Understanding the veterinary surgeon's role – Understanding other support staff roles – Teamwork and communication – Communication – What support staff say
11 Surviving in veterinary practice
Contract of employment – Job description – Practice aims and objectives – The practice manual – Practice newsletters and information – The social side – The mentor – What support staff say
12 Support staff – the future
Changes in practice – Practice organisation – Practice specialisation – Client expectations – The internet – Competition – Training – The privilege to dispense – The future – What support staff say
The last word from the support staff
Glossary
Index
Useful addresses